Wing Nut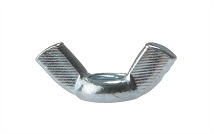 When particular types of fasteners need to be tightened or loosened frequently without the use of tools, Wing nuts are the perfect solutions. Wing nuts allow someone to turn and tighten these fasteners by hand.Wing nuts are generally used in marine oriented applications, such as on boats or other marine vessels.
The need for wing nuts has evolved from the need for the speed and convenience tightening and loosening a wing nut by hand affords.Wing nuts are generally considered by most to be a weaker type of nut, but this is not necessarily the case. The wing shaped protrusions are thought to be easy to
break off, and the extra size makes them more vulnerable to corrosion. This is why you will find that most wing nuts have a hex head on them just like a normal nut.Higher quality wing nuts, like Zinc plated steel and stainless steel 18-8 are very sturdy and are resistant to corrosion in marine conditions. Stainless steel 18-8 is, in particular, an extremely high quality of metal and is the most popular choice for boats and marine sssapplications.These Wing nuts are manufactured as per DIN 315 Standard with size ranging from M3 to M24.
For quick Quote on Wing Nut, please contact our Sales team.
Nut Type
Surface & Coatings