Acorn Nuts/Doomed Cap Nut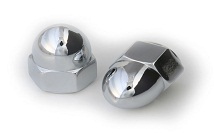 As name suggests, Acorn Nut got its name from from its shape. It is also called as doomed cap nut which prevents its contact from the external threads.
We produce premium quality Nuts from various metals & metal alloys with ASTM/ASME/DIN Standards & Specifications.We produce different types of nuts hot forged cold formed nuts in almost all shapes & sizes.We also provide passivation,quality coating further processing as per client's requirement.
For quick Quote on Acorn Nut, please contact our Sales team.
Nut Type