Alloy 20 Nuts Manufacturers,Suppliers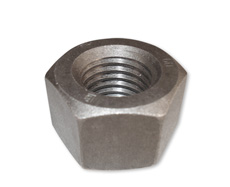 We Manufacture & supply bar stock machined, forged and cold formed Alloy 20 Nut. We can produce & supply Alloy 20 nuts from size range M2 upto M150 and 1/4" to 6" in imperial sizes. Mostly used Nuts are Heavy Hex Nuts,Flange Nuts,Cap Nuts,Doomed Nuts etc. We can supply these Alloy 20 nuts in shortest delivery time.
For quick Quote on Alloy 20 Nuts, please contact our Sales team.
Alloy 20 Nut Type's
Alloy 20 Equivalent Material & Designation
| | | | | |
| --- | --- | --- | --- | --- |
| Alloy 20 |  20Cb-3® | UNS N08020 | Carpenter 20® | EN/DIN 2.4660 |
Alloy 20 Nut Related Keywords
| | |
| --- | --- |
| Alloy 20Cb-3 Nut | Incoloy Alloy 20 Nut |
| Alloy 20Cb-3 Hex Nut | Alloy 20 Stainless Steel Nut |
| Carpenter 20 Hex Nut | Incoloy Alloy 20 Nuts |
| Alloy 20 Lock Nut | Alloy 20 Stainless Steel Hex Nut |
| Alloy 20 Stainless Steel Heavy hex Nut | Alloy 20 Hex Nuts |
| Incoloy Alloy 20 Heavy hex Nut | Alloy 20 Stainless Steel Lock Nut |
| Alloy 20 Nuts | Incoloy Alloy 20 Lock Nut |
| Alloy 20 Stainless Steel Nuts | Incoloy Alloy 20 Hex Nuts |
| Carpenter 20 Nuts | Alloy 20 Stainless Steel Hex Nuts |
| Incoloy Alloy 20 Hex Nut | Alloy 20 Heavy hex Nut |
| Carpenter 20 Hex Nuts | Alloy 20 Hex Nuts |
| Alloy 20 Nuts | Alloy 20 Hex Nut |
| Alloy 20Cb-3 Heavy hex Nut | Alloy 20Cb-3 Nuts |
| Alloy 20Cb-3 Lock Nut | Alloy 20 Heavy hex Nut |
| Alloy 20 Nut | Carpenter 20 Nut |