Square Nut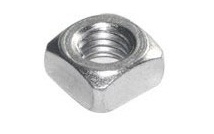 A Square nut is a four-sided nut. Compared to standard hex nuts, square nuts have a greater surface in contact with the part being fastened, and therefore provide greater resistance to loosening.A Squar nut is usally assembled with a square headed bolt.
We offer Square Nuts in size from M4 upto M72 as forged & machined.We produce square nuts in stainless Steel,Alloy Steel,Carbon Steel,Titaniumalloys,aluminum alloys,copper alloys like brass,Bronze,Phosphor Bronze,Silicon Bronze,Aluminum Bronze, Duplex & Super Duplex Stainless Steel,Nickel alloys like Inconel,Monel,Hastelloy,Incoloy,Alloy 20,Exotic 904L etc.We manufacture these square nuts as per DIN 557 & 562.
For quick Quote on Square Nut, please contact our Sales team.
Nut Type