Cap Nut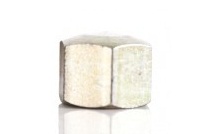 Cap Nuts are used to cover exposed threaded stud, rod and bolt ends with a dome-like cap.This protects its external free thread ends from damage.
We Offer Superior finished Cap Nuts also called as Hexagon Cap Nuts in Stainless Steel Grades,Non ferrous copper,brass,Aluminum,Titanium,nickel alloys like inconel,monel,hastelloy ,etc.We manufacture these hex Cap Nuts as per DIN 917 Standard.We can also provide these cap nuts customized as per client's requirement.
For quick Quote on Cap Nut, please contact our Sales team.
Nut Type