Castle Nut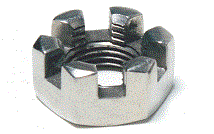 A Castle nut, also called a castellated nut or slotted nut, is a nut with slots (notches) cut into one end. The name comes from the nut's resemblance to the crenellated parapet of a medieval castle.
We produce premium quality Nuts from various metals & metal alloys with ASTM/ASME/DIN Standards & Specifications.We produce different types of nuts hot forged cold formed nuts in almost all shapes & sizes.We also provide passivation,quality coating further processing as per client's requirement.
For quick Quote on Castle Nut, please contact our Sales team.
Nut Type