Kep Nut / K Lock Nuts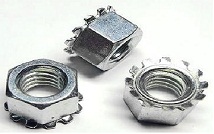 A Kep Lock Nuts familiarly known as K Lock nut, is a nut with an attached, free-spinning washer. It is used to make assembly more convenient.We Exclusively produce these K Lock Nuts in Stainless Steel Material.
For quick Quote on Kep Nut, please contact our Sales team.
Nut Type