Coupling Nut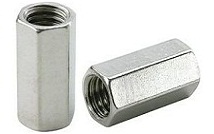 A Coupling Nut is usually used to fasten two threaded ends most commonly a threaded bar/rod or studs.As seen it is a hex bodied fasteners similar to hex nut with length factor.
We produce Hex coupling Nuts also called as Hex Coupler/Hex Coupling Nuts in Stainless Steel grades,Alloy Steel,Inconel Alloy,Monel,Incoloy,Hastelloy C,Alloy 20,Duplex & Super Duplex,AISI 904L,etc.We manufacture these coupling nuts in various sizes as per DIN 6334 Standard.
For quick Quote on Coupling Nut, please contact our Sales team.
Nut Type