Heavy Hex Nuts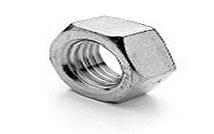 Heavy Hex nuts are similar to those of hex nuts with extra height as required for some special heavy duty project or installation.
TorqBolt Offers Heavy Hex Nuts in Stainless Steel,Nickel Alloys,Carbon Steel,Alloy Steel,High Tensile alloy Steel,Non ferrous materials like bronze,copper,aluminum,silicon bronze,titanium etc. We manufacture these high/heavy hex nuts as per DIN 5587 Standard,ISO 4033 Standard.
For quick Quote on Heavy Hex Nut, please contact our Sales team.
Nut Type