Inconel 625 Bolts Manufacturers,Suppliers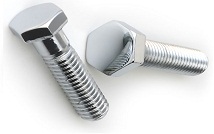 TorqBolt Manufactures Premium Quality Inconel 625 Bolts. We can offer these Alloy 625 Bolts in both Half Threads & Full Threads Configuration with sizes from M5 to M72. We provide Inconel 625 hex bolts with UNC & UNF Threads. We at TorqBolt keep a regular stock of these material so as to enable timely production & Delivery.
For quick Quote on Inconel 625 Bolts, please contact our Sales team.
Inconel 625 Bolt Coatings
Inconel Equivalent Material & Designation
| | | | | |
| --- | --- | --- | --- | --- |
| Alloy 600 | Inconel 600 | EN/DIN 2.4816 | UNS N06600 | Alloy 600 |
| Alloy 625 | Inconel 625 | EN/DIN 2.4856 | UNS N06625 | Alloy 625 |
| Alloy 718 | Inconel 718 | EN/DIN 2.4668 | UNS N07718 | Alloy 718 |
Inconel 625 Bolt Related Products
Astm B446 Alloy 625 Hex Bolts
Inconel 625 Bolt
Inconel 625 Bolts
Alloy 625 Hex Bolt
Inconel Alloy 625 Machine Bolts
Astm B446 Alloy 625 Bolts
Astm B446 Alloy 625 Hex Bolt
Inconel 625 Shoulder Bolt
Alloy 625 Bolt
Astm B446 Alloy 625 Shoulder Bolt
Inconel Alloy 625 Bolt
Alloy 625 Metric Bolts
Inconel 625 Bolting
Inconel Alloy 625 Shoulder Bolt
Alloy 625 Hex Bolts
Alloy 625 Shoulder Bolt
Inconel 625 Hex Bolts
Inconel Alloy 625 Bolting
Inconel 625 Hex Bolt
Inconel 625 Machine Bolt
Astm B446 Alloy 625 Bolt
Alloy 625 Bolting
Inconel Alloy 625 Metric Bolts
Alloy 625 Machine Bolts
Inconel Alloy 625 Hex Bolt
Alloy 625 Machine Bolt
Astm B446 Alloy 625 Bolting
Astm B446 Alloy 625 Machine Bolts
Inconel Alloy 625 Machine Bolt
Astm B446 Alloy 625 Metric Bolts
Inconel Alloy 625 Bolts
Alloy 625 Bolts
Astm B446 Alloy 625 Machine Bolt