Alloy 20 Bolts | Alloy 20 Cb3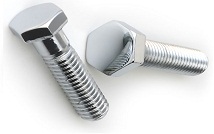 We produce premium quality Alloy 20 Bolts with ASTM/ASME/DIN Standards & Specifications.We produce different types of hot forged cold formed bolts in almost all shapes & sizes.We also provide passivation,quality coating further processing as per client's requirement.Our Metric Manufacturing Size ranges from M10 to M100 with varied length. Whereas our imperial manufacturing range varies from # 0000 to 6".
For quick Quote on Alloy 20 Bolts, please contact our Sales team.
Alloy 20 Bolts
Alloy 20 Equivalent Material & Designation
| | | | | |
| --- | --- | --- | --- | --- |
| Alloy 20 |  20Cb-3® | UNS N08020 | Carpenter 20® | EN/DIN 2.4660 |
Alloy 20 Bolt Related Products
Alloy 20Cb-3 Machine Bolt
Alloy 20 Hex Bolt
Alloy 20 Stainless Steel Shoulder Bolt
Alloy 20 Metric Bolts
Alloy 20 Hex Bolts
Alloy 20 Stainless Steel Hex Bolts
Incoloy Alloy 20 Shoulder Bolt
Carpenter 20 Shoulder Bolt
Alloy 20 Shoulder Bolt
Alloy 20 Stainless Steel Bolts
Carpenter 20 Hex Bolt
Alloy 20 Shoulder Bolt
Incoloy Alloy 20 Hex Bolts
Incoloy Alloy 20 Metric Bolts
Alloy 20Cb-3 Hex Bolts
Alloy 20 Stainless Steel Machine Bolt
Carpenter 20 Bolt
Carpenter 20 Bolts
Alloy 20 Stainless Steel Metric Bolts
Carpenter 20 Metric Bolts
Alloy 20Cb-3 Hex Bolt
Alloy 20Cb-3 Machine Bolts
Alloy 20Cb-3 Metric Bolts
Alloy 20 Machine Bolt
Alloy 20 Stainless Steel Bolting
Alloy 20 Bolts
Incoloy Alloy 20 Bolts
Carpenter 20 Bolting
Alloy 20Cb-3 Bolting