Duplex Steel bolts Manufacturers, Suppliers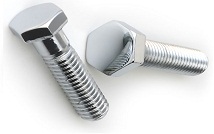 TorqBolt is a Manufacture,Stockist of Hex Bolts & Stud Bolts in Duplex & Super Duplex Stainless Steel. We provide Full Threads/Half Threads configuration with UNC/UNF Threading type. We have ready stock material in Duplex Steel Fasteners in grades like Duplex 2205, Duplex 2304, Super Duplex 2507 etc. We also manufacture other rare Duplex grades upon request.
Size : M4 upto M72 & Above
For Quick Quote & Information on Duplex Steel Bolts, Please contact our Sales team
Duplex Steel Bolt Coatings
Duplex Stainless Steel Equivalent Grades & Designations.
| | | |
| --- | --- | --- |
| Duplex 2205 | En 1.4462 | UNS S31803 |
| Duplex 2304 | En 1.4362 | UNS S32304 |
| Super Duplex 2507 | En 1.4501 | UNS S32760 |
ASTM/ASME Specification for Duplex & Super Duplex Grade Bolts
| | | |
| --- | --- | --- |
| Duplex 2205 | ASTM / ASME SA 790 UNS NO S 31803 | ASTM / ASME SA 182 F51 |
| Super Duplex 2507 | ASTM / ASME SA 790 UNS NO S 32760 | ASTM / ASME SA 182 F55 |