PLAIN WASHERS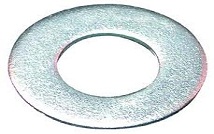 Plain Washers are most basic type yet widely used Washers.Plain washers depict like a shape of a plain ring.These washer are also referred as Flat Type Washers.We Manufacturer Plain / Flat type washers as per various ISO/DIN/JIS/ASTM Standards in different Materials viz. Stainless Steel ,Nickel Alloy ,Alloy Steel,Carbon Steel,Copper Nickel ,Copper, Brass,Aluminum,Titanium & other Special Alloys..
Plain Washers are available in size range of M1 to M100 & others a sper drawings.
Below, you can navigate through Listed Material & Dimensional Standards for Plain/Flat Type Washers.
For Quick Quote & more information on Plain/Flat Washers, Directly Contact our SALES team.
DIN/ISO/JIS/ASTM STANDARDS FOR PLAIN/FLAT WASHERS

DIN 125 A (ISO 7089)

DIN 125 B (ISO 7090)

DIN 126 (ISO 7091)

DIN 9021

AS 1252

JIS B 1256

BS4320 A,B

BS4320 C,D

DIN 7989

DIN 6903

IS : 2016 TABLE II 

DIN 6916

JIS B 1186

ASTM F436