Ogee Washers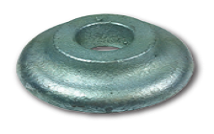 Ogee washer are Pressed Bell Shaped Washers with a large bearing surface used to protect bolt heads and nuts from pulling into the bolting surface. TorqBolt manufactures Ogee Washers in material like stainless Steel,Galvanized Steel,Carbon Steel,Alloy Steel,Nickel Alloys,Decorative Copper,Brass & Aluminum Alloys with superior finishing.
Ogee Washers are available within size range of 1/2" to 1 1/2". We offer complete range of material in Ogee washers as listed below. View Ogee Washer's Dimensional Chart
For Quick Quote & more information on Plain/Flat Washers, Directly Contact our SALES team.