DOCK WASHERS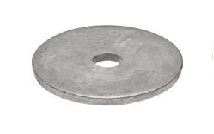 Dock washers are flat washers with large bearing surface with smaller Bolt diameter & thicker than standard flat washers.These are normally used in Construction. We Manufacturer these thick dock washers Specially Low Carbon Alloy Steel,Stainless Steel,Galvanized Steel & other steel on request.
We Produce Dock Washers from size 1/2" upto 1 1/4" & customized upto 4" as per requirement.
For Quick Quote & more information on Dock Washers, Directly Contact our SALES team.
DIMENSIONS | DOCK WASHERS

1/2"

1/4"

9/16"

3"

22 KGS

5/8"

1/4"

11/16"

3"

21.5 KGS

3/4"

1/4"

13/16"

3"

21 KGS

7/8"

1/4"

15/16"

3"

20.5 KGS

1"

1/4"

1 1/16"

3 1/4"

24 KGS

1 1/4"

11/4"/2"

1 3/8"

4"

36 KGS