DOME WASHERS | DOME SHAPED WASHERS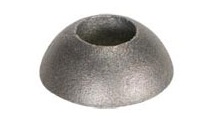 Dome shaped washers are spring washer formed with a semispherical shaped top.This design provides a high load bearing capacity and a low deflection.
Domed washers are also called as umbrella washers.
.We also provide passivation,quality coating further processing as per client's requirement.
We Produce Dome Washers from size 1/8" upto 1/2"& other on request.
For Quick Quote & more information on Dome Washers, Directly Contact our SALES team.