ASTM F1554 Specification for Structural Anchor Bolts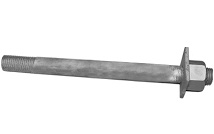 ASTM F1554 Specifications covers carbon, carbon boron, alloy, or high-strength low-alloy steel anchor bolts Staright Head & Bend Head Anchor Bolts used to anchor supports to structural concrete foundations .TorqBolt Stocks & Supply these Bolt Fasteners in various sizes & Coatings.
For quick Quote/Information on F1554 Grade Anchor Bolts, please contact our Sales team.
Related Keywords for ASTM A193 Grade B8 Class 2 Bolts : Grade 8 Bolts,Grade B8 bolts,Gr 8 Bolts,B8 Class 2,A193 B8 Bolts,B8 Studs,B8 Bolting etc.
Grade
Identification
Size, Inches
Tensile, ksi
Yield, ksi min
Yield, MPa min
Elong. % min
Reduction of Area %, min
36
1/4 - 4
58 - 80
36
248
23
40
36
1/4 - 4
58 - 80
36
248
23
40
105
1/4 - 4
58 - 80
36
248
23
40