Titanium Grade 1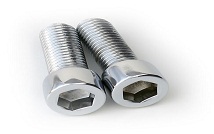 Grade 1 titanium is the first of four commercially pure titanium grades. It is the softest and most ductile of these grades. It possesses the greatest formability, excellent corrosion resistance and high impact toughness.
Because of all these qualities, Grade 1 is the material of choice for any application where ease of formability is required and is commonly available as titanium plate and tubing. These include:
Chemical processing,Chlorate manufacturing,Dimensional stable anodes,Desalination,Architecture,Medical industry,Marine industry,Automotive partA,irframe structure,etc.

.